This post may contain affiliate links, which means I may make a small commission at no extra cost to you.
It's that time of year again. The air gets a little cooler, the leaves begin to change, and we send our adorable kiddos off to school—along with an entire ecosystem of germs. Can anyone else relate? My son, typically the picture of health, came home three weeks into the new school year congested, coughing, and generally yucky. And guess who caught the bug? Yep, yours truly.
As a mom who loves to take a holistic approach to situations, I made some of my homemade chicken noodle soup! But not just any chicken soup; we're talking about a healthy chicken noodle soup loaded with bone broth and all-natural, organic ingredients. Oh, and a big bonus is it's gluten-free!
So, if you live a holistic lifestyle or are a health-conscious family, I've got the perfect chicken soup recipe for you!
Quick and Easy Chicken Noodle Soup!
Pin it ✨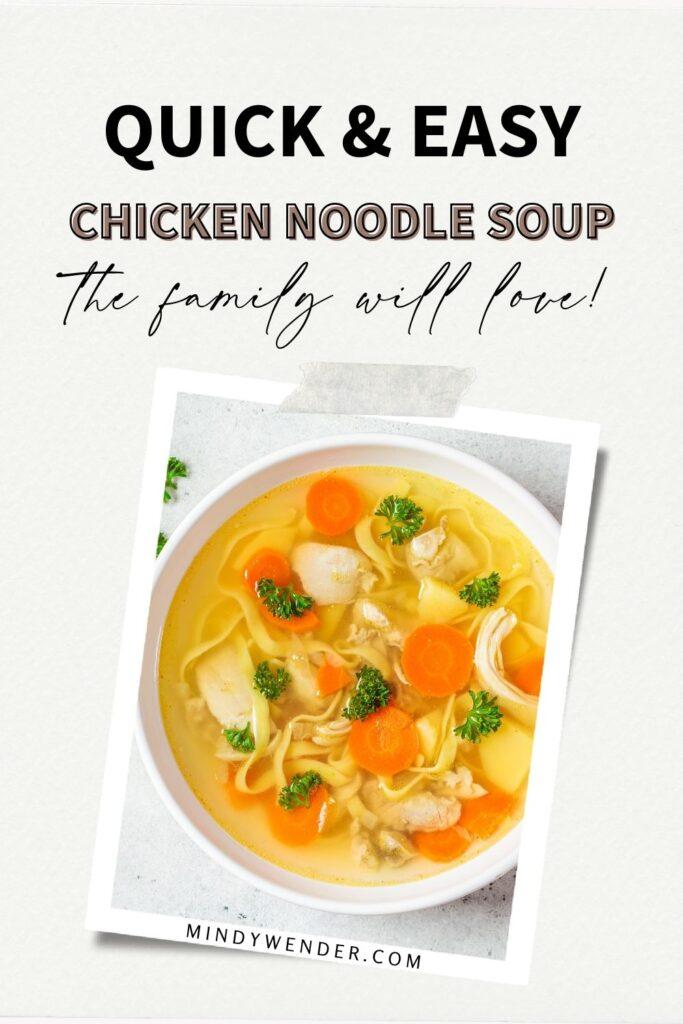 Why Bone Broth is a Game-Changer
Let's zero in on bone broth because this is a game-changer in holistic and organic living. Sure, you might have heard the buzzwords about it being nutritious, but do you know what makes it so amazing?
Here are the top 5 benefits of bone broth:
Immune-System Boost
Packed with amino acids like arginine and glutamine, bone broth gives your immune system the kickstart it needs. These amino acids are vital for immune cell function, meaning a bowl of healthy chicken noodle soup with bone broth could help fend off the nasty germs your kiddos bring home.
Gut Health
This is seriously such a big one. Bone broth is rich in gelatin, which supports intestinal health by protecting the mucosal lining of the digestive tract. Given that much of our immune system resides in the gut, a healthy digestive tract is essential for overall health.
Anti-Inflammatory Properties
Inflammation is the body's natural response to infection, but too much inflammation can wreak havoc on your system. Bone broth has valuable minerals and amino acids like glycine that have anti-inflammatory effects. So, if you're feeling under the weather, this can help bring your body back to balance.
Rich in Nutrients
The long cooking process extracts various bone nutrients, including calcium, magnesium, and phosphorous. These are minerals that not only strengthen your bones but also help with various bodily functions, making it a nutritional powerhouse.
Skin Health
If you follow me on my social media channels, you know I love skincare. Did you know bone broth is a natural source of collagen? Yup! Regularly consuming it can improve skin elasticity and hydration, making you look as good as you feel.
So, the next time you make a pot of homemade, healthy chicken noodle soup, know that you're doing much more than warming bellies. You're filling your family with a nutrient-dense, immune-boosting, gut-healing elixir that's as delicious as beneficial. Talk about multitasking 😍
If you don't want to make your bone broth from scratch, my TOP two bone broth selections are Kettle & Fire and Bare Bones. Both broths can be found on my Amazon Storefront!
Grab Your Kettle and Fire Bone Broth Here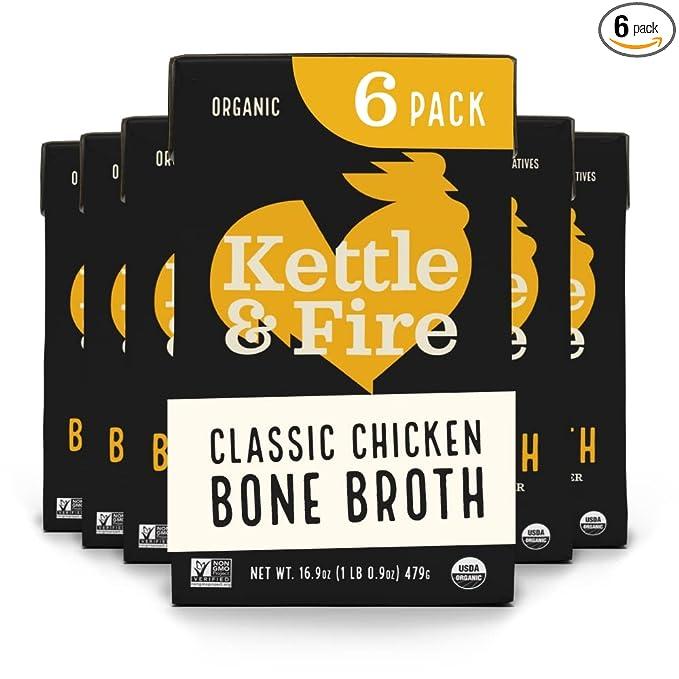 Grab Your Bare Bones Bone Broth Here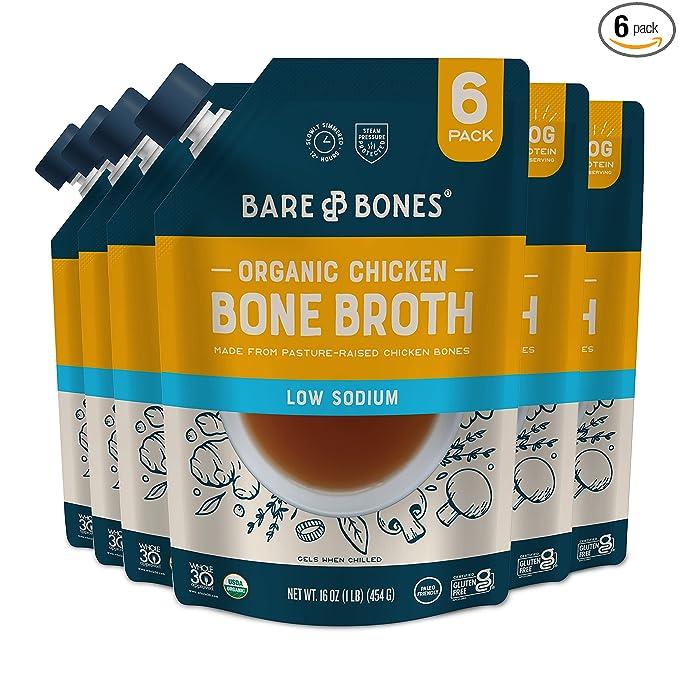 Okay, now let's make healthy chicken noodle soup (that's gluten-free!).
I promise that this isn't a complicated culinary undertaking. I do not like to cook and keep it as simple as possible in the kitchen. So, trust me when I say this recipe is easy, and you can 100% do it, no problem! Even a busy mom with zero aspirations to become the next Iron Chef can do it lol. So, let's get cooking.
Forewarning: There aren't exact measurements for this recipe. Just measure with your heart. I promise it'll turn out great!
Ingredients:
All ingredients are organic because we're all about that healthy life!
1-2 chicken breasts (pre-cooked if you can, because who has time?), shredded
A few stalks of celery, chopped
A couple of large carrots chopped.
Fresh parsley
Bone broth (32 oz should do the trick)
Sea salt
A bay leaf
Gluten-free quinoa noodles (we're a gluten-free family over here). I usually get spaghetti or linguini pasta and break it into smaller pieces.
Garlic (because garlic makes everything better)
Instructions:
Start by heating a dab of oil in a medium-sized saucepan on medium heat.
Toss in your chopped celery, carrots, and sauté for 3-5 minutes.
Pour in about 32 ounces of bone broth.
While your broth is warming up, cook your gluten-free quinoa noodles. A sprinkle of sea salt and oil drizzle set them aside later.
Add your parsley, sea salt, and bay leaf. If you're like me, a sprinkle of garlic is also in order.
Crank the heat until your bone broth starts boiling. Then reduce it to a simmer, add your shredded chicken, and let it mingle for 5-10 minutes.
Stir in your cooked noodles, and voila, you have a pot of homemade, healthy chicken noodle soup that even your kids will eat.
So there you go —your new go-to for homemade chicken noodle soup that's as healing as it is tasty!
Let's be real: This isn't just your run-of-the-mill bowl of soup with bone broth as the superfood ingredient. We're talking about a healthy chicken noodle soup with nutrients to boost your immune system. Whether it's back-to-school germs, winter colds, or just a day when you feel you could use a wellness lift, this soup has your back. If you try out the recipe, I would love to hear what you think in the comments!
Until next time, enjoy the restorative goodness of bone broth, and nourish yourself and your littles with health and happiness! 🍵💚