How does diet affect skin wellness?
We've all heard it before, but the adage "you are what you eat" isn't just a cliché. When it comes to our skin—the largest organ of our body—nutrition plays a HUGE role in determining its health and vibrancy. Nutrition and skin health go hand in hand. So, if you want to stay looking younger for longer, take good care of your skin!
Think of your skin as a reflection of your inner well-being; if you nourish it right, it's going to show on the outside.
I remember when I first started my BODi Partner business, it inspired me to completely change how I ate and worked out. I basically went from not worrying about what I ate and not working out to taking care of my body and eating foods that would actually help my body feel its best.
One of the first things I noticed with the changes in eating right was a change in my skin!
Since then, I've learned A LOT about overall nutrition, especially skin health, and I want to pass along my knowledge to you.
I'm going to go over the TOP supplements, products, and programs that I love and swear by below. So, let's dive in!
Nutrition and Skin Health: The Secret to Radiant Skin
Pin It ✨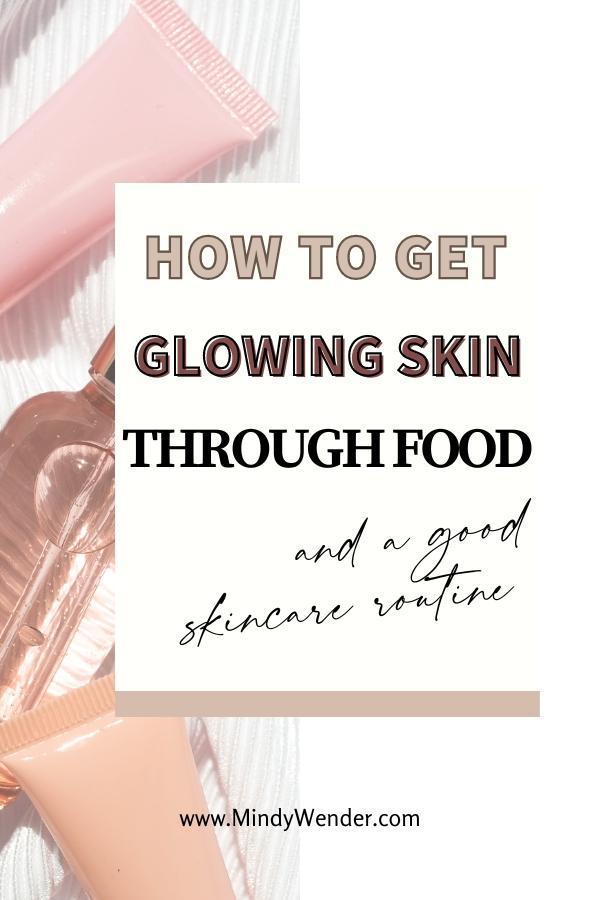 This post may contain affiliate links, which means I may make a small commission at no extra cost to you.
Enhancing Nutrition and Skin Health: The Essential Nutrients You Need
Let's talk about nutrients in food first! The root causes of getting healthy, younger-looking skin can be prevented if you take on the essential nutrients in your dietary routines. It's that simple! I'll go over some below and also include my favorite supplements for each!
Vitamin C
An absolute champion when it comes to skincare, Vitamin C fights skin aging, reduces UV-induced damage, and brightens up the complexion. You can obviously find vitamin C in citrus fruits, but also in strawberries, bell peppers, and broccoli. Oh, not to mention it's an immunity-boosting powerhouse.
Access my current favorite Vitamin C supplement.
Vitamin E
Vitamin E acts as a powerful antioxidant and assists in reducing the damage done by free radicals, which means it keeps the skin youthful.
Nuts, seeds, spinach, and broccoli are some of the foods loaded with this skin-loving vitamin.
Access my current favorite Vitamin E supplement.
Vitamin A
Okay, so this vitamin is essential for the repair and maintenance of our skin. Vitamin A aids in producing new skin cells, which makes sure the skin remains soft and smooth.
Rich sources include carrots, sweet potatoes, and dark leafy greens.
Access my current favorite Vitamin A supplement.
Vitamin K
Often overshadowed by its more famous counterparts, Vitamin K plays an important role in skin health, so don't overlook it!This nutrient aids in healing wounds, bruises, etc. A deficiency can actually cause dark circles under the eyes!
Incorporate green leafy vegetables, prunes, and fermented dairy foods into your diet to ensure a sufficient Vitamin K intake.
Access my current favorite Vitamin K supplement.
Biotin
Biotin helps the body metabolize amino acids to build keratin, which is a protective layer for the skin. It also helps the body produce fatty acids that nourish the skin.
There have even been some studies done that show that biotin supplements can help with itchy, flaky rashes and other skin conditions.
Oh, and a little bonus if you are looking to lose weight…Biotin helps convert food into energy and can increase your resting metabolism, which in turn can help with weight loss.
Foods rich in Biotin include sweet potatoes, bananas, mushrooms, and egg yolks.
Access my current favorite Biotin supplement.
Zinc
It's not just for sunscreens! This mineral plays a big role in growth, hormone production, immune function, and inflammation. Yup, all of it!
Foods like whole grains, dairy products, and red meat are rich in zinc. Regular intake can make a noticeable difference in combating acne and inflammation.
Access my current favorite Zinc supplement.
My favorite skincare: Herbal Face Food
Now, I know we have been talking about nutrients that come from supplements that we put into our body, but what about what we put ON our skin? Beyond the nutrient intake, it's essential to complement your diet with good skin care products. Trust me, it's just as important!
And let me tell you…
If you know me, you know I love finding the best skin products out there. I genuinely feel like I found the holy grail with what I use now, and it's such a simple skincare routine!
Herbal Face Food is a skincare line made from 100% plants. It contains antioxidants and phytochemicals that may help reverse aging by improving wrinkles, dryness, and large pores. I can't believe the results I have seen on it so far!
The reason I say it's top tier is because herbal face food capitalizes on the potent power of herbs to rejuvenate the skin. It's from the world's most potent botanicals that deliver antioxidants, phytonutrients, and anti-inflammatory agents all directly to your skin!
I'm seriously OBSESSED! I personally use The Cure, serum 2, and the vitamin C cream (which is also SPF 50 daily, by the way). I suggest starting with serum 1 and working your way up to serum 2. It's the same formula, just the potency level differs.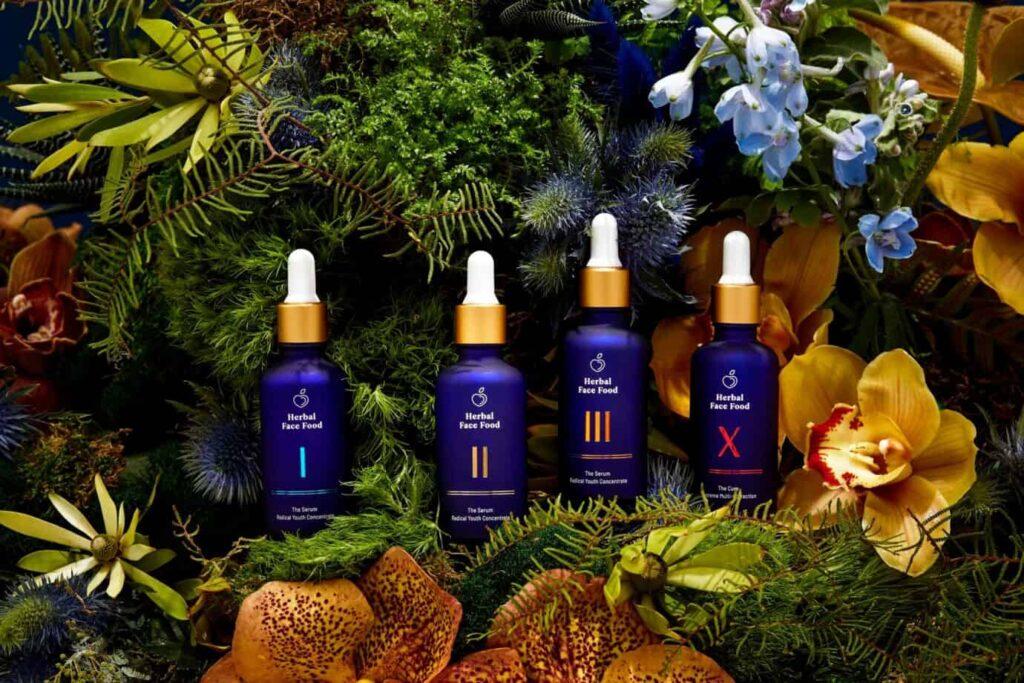 Oh, and guess what… I scored a 20% off promo code for you, too! 😍
The Ultimate Reset
One more thing I will also get behind for not just better skin but overall health is the Beachbody Ultimate Reset.
It's a 21-day program that helps to remove the toxins from the body while nourishing it with essential nutrients. So, if you are suffering from skin conditions like acne, the Ultimate Reset can help make the skin healthier and smoother without harming the body or unnatural products.
Typical cleaners, on the other hand, often do more harm to your body by starving it of the nutrients it needs to nourish and attain health. Beachbody Ultimate Reset is an all-natural alternative to harsh cleansers. That's why I love this reset so much! The results I've seen are always amazing!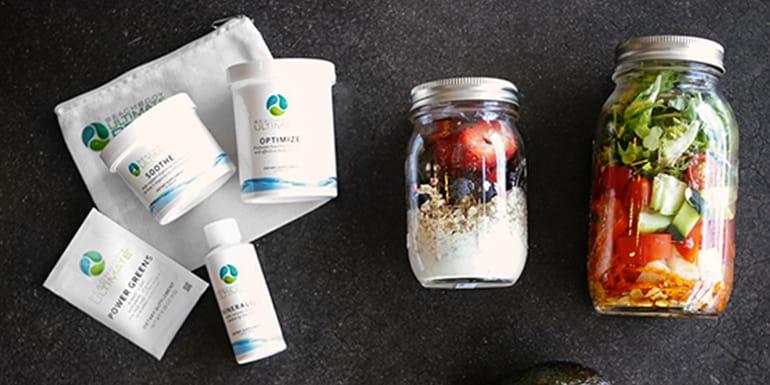 Grab your own Beachbody Ultimate Reset here!
Navigating the relationship between nutrition and skin health reveals the undeniable influence of our dietary habits on our skin's vibrancy. I experienced it firsthand! Getting those vitamins in, having a good skincare routine, and maintaining a healthy diet is where it's at. So make sure to prioritize vital nutrients because integrating power-packed nutrients, such as Vitamins C, E, and A, not only revitalizes our skin but also bolsters its natural defense mechanisms.
Diving into Herbal Face Food and programs like the Ultimate Reset also pave the way for healthier skin.
So, as you can see, if you want results of glowing and youthful skin, healthy skin is not just about external applications but also about internal nourishment. By marrying the right nutrition with the best in herbal skincare, we create the perfect combo for radiant skin.
Did you find this helpful? Do you have any questions for me? If so, I would love to hear from you!